1.The Grateful Dead Birthday Celebration Event
Synopsis:
In celebration of Jerry Garcia's 70th birthday, NCM Fathom Events brings "The Grateful Dead Movie" back to select movie theaters nationwide for a special one night event on Wednesday, August 1 at 7:00 PM (Eastern time). This Grateful gathering will include a special commemoration of Jerry brought to you by notable director (and Grateful Dead drummer Bill Kreutzmann's son) Justin Kreutzmann and an exclusive interview with guitarist and Grateful Dead co-founder Bob Weir, who will take fans behind the scenes of his state-of-the-art studio, the Tamalpais Research Institute.
2. Rifftrax LIVE 'Manos' The Hands of Fate
Thursday, Aug. 16t, 2012 at 8PM
The stars of Mystery Science Theater 3000 are coming back to select movie theaters nationwide for only one night to take on one of the worst films of all time: "Manos" The Hands of Fate. Join Michael J. Nelson, Kevin Murphy and Bill Corbett of RiffTrax.com on Thursday, August 16th for hilarious all-new riffing on a not-so-classic movie! This one night event will be your only chance to see the guys fire their wisecracking commentary at "Manos" The Hands of Fate on the big screen.

3. Ballet: Coppelia from the Bolshoi Ballet
Sunday, Sept. 9t, 2012 at 12:30pm
Synopsis: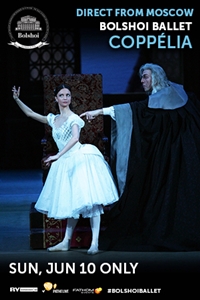 A doll come to life, love triangles, illusions, doubles - the story of Coppelia is just as intriguing and fanciful today as it was in 1870! From the Bolshoi Ballet; Original choreography by Marius Petipa recreated by Sergei Vikharev.
Rating:

NR
Runtime:

2 hr. 38 min.
Director:

Leo Delibes
Genre:

Program
Cast:

Natalia Osipova
4. Glen Beck's Unelectable II LIVE
Thurs. Sept. 20, 2012 at 8PM
Synopsis:
Glenn Beck has reinvented talk radio, changed the face of cable news, and started his own online network. But…until you've seen him perform live on stage, you haven't seen the real Glenn Beck. Glenn's hitting the road with his comedy tour, Unelectable 2.
It's your chance to see one of the most dynamic and unique live performers of his generation. If politicians said the kinds of things that Glenn does—you know, the truth—they'd never get into office. That's why Glenn Beck is unelectable—he can't help but tell it like it is. No one is spared Glenn's wrath…Democrats, Republicans, law makers and law breakers…everybody gets what's coming to them in this incredible live comedy show. Election Day is coming whether we like it or not, so you might as well laugh before you cry. Join Glenn for an unforgettable night comedy that will have you wishing he ran for office if for no other reason than to be the first politician that got laughed at on purpose!
And this is just the beginning! Please check our
website
for more and email us at info@digiplexdest.com for inquiries.